Welcome to your
Watershed Moment
Welcome to your
Watershed Moment
This is the moment when you get to change the game.
Times of disruption and crisis are times of opportunity. But the thinking that brought us to today won't take us to tomorrow. Today, you have the resources to rewrite the future.
At Reservoir, we provide deep resources for leadership, serving as trusted and experienced guides in unfamiliar waters, helping you find the best course of action.
What We Teach
Learning takes many forms.
In our courses, we help emerging leaders become masters of coaching for themselves and their teams. We start by focusing on the most critical skill: how to ask the right questions and listen for the right answers.
Looking for answers?
Start with the right questions.
Download The Seven Essential Questions of Leadership, a free guide to deeper self-awareness. Based on Dain Dunston's upcoming book, Being Essential: Radical Self-Awareness for Life, Love, and Leadership, the questions help you locate yourself so you can navigate to better personal and leadership outcomes.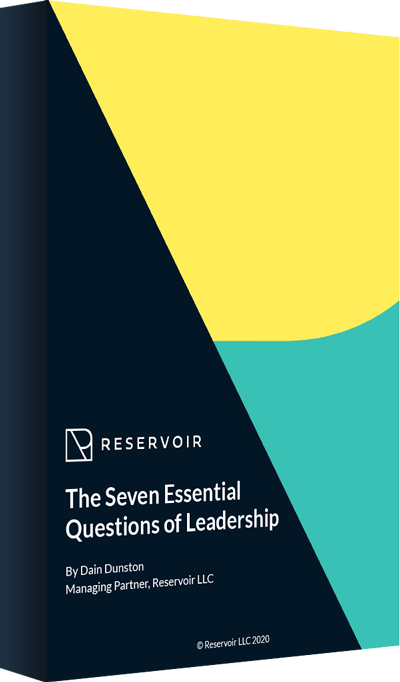 daindunston
https://www.youtube.com/watch?v=2MYECGV0GS8 This video of Dain Dunston was produced for Authority Magazine for their series "Five Things You Need to Know
Inna
Big Goals with a Gold Dot Strategy By: Vince Poscente Employ a technique called
daindunston
Which is more effective for an organizational leader? Working with an experienced executive coach with years of experience in guiding
The Overflow
Where Reservoir Fellows spill the latest thinking on self-knowledge, coaching, leadership, innovation and societal responsibility. Also tips on what to read next and what wines go best with end-of-day Zoom calls.